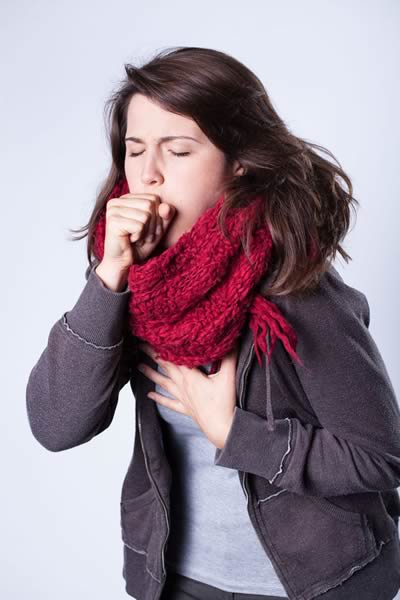 Cough is a human reflex that occurs when your throat is irritated by mucous, dust, or small particles.  The body spontaneously responds to these irritants by coughing, thus protecting the upper airway and lungs.  This response is similar to other reflexes that protect the body, like sneezing or blinking.  Occasional cough is normal.  Persistent cough, especially when accompanied with other symptoms like shortness of breath, discolored or bloody mucous production, chest pain, or sore throat may indicate a more serious medical problem.
Most episodes of cough are not problematic, but frequent or prolonged episodes of cough may be a sign of heart, lung, stomach, or nervous system issues.  People who smoke are much more likely to cough because they may develop a chronic lung condition called COPD.  Cough is also associated with congestive heart failure, asthma, allergies, acid reflux disease, bronchitis, pneumonia, and lung cancer.
A cough that is associated with the common cold will gradually improve as the illness resolves.  A cough that is associated with the following symptoms indicates that a more serious illness may be involved: chest pain, shortness of breath, bloody mucous, rapid breathing, or fever.  With the appropriate immediate medical intervention, these conditions can be treated and healed.
Treatment of cough depends on the condition causing it:
Upper respiratory infections (common cold):  Anti-inflammatory (eg. Advil/Motrin), anti-fever (eg. Tylenol), expectorant (eg. Mucinex), and anti-tussive (eg. Robitussin/Delsym) medications can be helfpul.  Antibiotics are rarely necessary because these infections are usually caused by a virus.  Antibiotics are indicated for bacterial infections like streptococcal pharyngitis or whooping cough.
Allergic rhinitis:  Treatment includes oral antihistamines (eg. Allegra/Claritin/Zyrtec), oral decongestants (eg. Sudafed), nasal steroid sprays (eg. Flonase/Nasonex), and nasal antihistamine sprays (eg. Astepro/Patanase).  Using saline sprays and irrigations can also be helpful.  Obtain allergy testing so that allergy triggers can be avoided.
Asthma attacks:  These episodes are usually treated with steroidal and non-steroidal pulmonary inhalers.  Occasionally, an oral steroid course is indicated.
Post-nasal drip: Oral decongestants, oral antihistamines, and nasal steroid sprays are useful.  Thinning the nasal secretions by increasing hydration, frequent use of saline spray, and steam exposure can be very beneficial.
Acid reflux:  This source of cough is can be treated with H2 blockers (eg. Zantac/Pepcid AC) or proton pump inhibitors/PPI's (eg. Protonix/Nexium/Prilosec).  Reflux precautions are also very important.
ACE inhibitor-induced cough: This type of blood pressure medication can cause coughing in some patients that resolves after the medication is discontinued.
Bacterial lung infections (pneumonia/TB):  These illnesses are treated with oral/IV antibiotics.
Pulmonary embolism:  This condition usually requires hospitalization and treatment with blood thinners.
Congestive heart failure:  Diuretics are used to remove excess fluid from the lungs.
Lung cancer: Treatment includes surgery, radiation, and/or chemotherapy.
As Ear, Nose, and Throat physicians, we are part of the team that helps to treat cough.  Please schedule an appointment with our office so that we can try to determine the source(s) of your cough and develop a treatment plan that will work towards eliminating the impact of cough on your daily life.
Reference: CHEST Foundation